If you are considering utilizing spray foam rental equipment, there is one thing you should consider… Having some help along the way!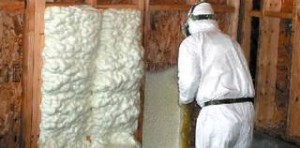 U.S. Spray Foam Rentals has a unique approach to renting foam insulation equipment. Our company sends a certified spray foam technician with your rental as a part of our service. Our technician is there to teach you how to properly apply the foam insulation and then once you have learned the basics, he maintains the equipment while you spray the foam.
Properly operating spray foam insulation equipment can be a challenging task for the beginner. Its not something that can be picked up in one day. Some companies send you a box and expect you to be able to start up, maintain and shutdown their equipment. Then send it back to them. What happens if there is a problem? You're stuck trying to figure out a piece of equipment your not familiar with.
Our advantage to this solution makes your project simple. Here's how it works: The technician arrives at your project, first he shows your installer all necessary safety precautions. Next our technician instructs your installer how to operate the spray gun and then shows him spray foam installation techniques. Finally, we maintain the spray foam rent rig while you install the spray foam insulation.
U.S. Spray Foam Rentals makes renting foam insulation equipment easy! Call us now for a free estimate!