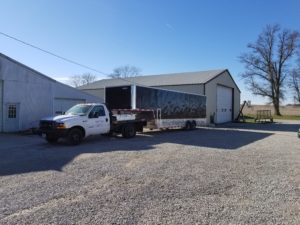 Our team has added an exciting new piece of rental equipment to our fleet!
Recently, we acquired and custom built a new 32 foot goose neck spray foam rig. This rig was a project that required a lot of preliminary thought and design.
Our team knows that saving money on spray foam applications is paramount to our customers. That's why we needed to design and build a mobile spray foam rig that was capable of carrying a large amount of material and getting it to our clients quickly. And that's just what we did!
Our crew first picked up the empty rental trailer and brought it back to our home base in St. Louis. Then once the trailer arrived at our shop it was time to go to work!
The first task was to insulate the interior of the trailer with spray foam insulation. Closed cell spray foam was applied to the ceiling, walls and underside of the trailer. This helps keep materials at specific temperatures which is important when spraying foam quickly and effectively in any environment.
After the foam was applied, electrical, framing and interior finishes went in. Now, the once empty trailer was starting to look like a spray foam rig!
Finally, the fun stuff… A high output Exp-2 spray foam machine was installed making up the heart of the new goose neck rig. After the foam machine was in place we installed an 80 gallon Ingersoll Rand air compressor and new Graco T-1 transfer pumps to push the material from the drums to the machine.
Finally, we added 210 feet of spray foam hose to the newly built goose neck rental rig to ensure we can apply foam wherever its needed.
After a couple of weeks of hard work, we had a heavy duty, road ready, spray foam rental rig that is capable of completing any job our customers may present us with!
Contact us now to see how our new goose neck rig can help you complete your project on time and well under the cost of hiring a local contractor!